The Paul Maine Jazz Band has been providing high quality entertainment in the Austin Texas area for the past 15 years. The band is available in the following configurations:
Three Piece ( sax, keys and bass )
Four Piece ( sax, keys, bass and drums )
Five Piece ( vocalist, sax, keys, bass and drums )
Six Piece ( sax, keys, guitar, vocalist, bass and drums )
The size of the venue and the entertainment budget usually dictate the number of pieces. The three piece is our most popular configuration.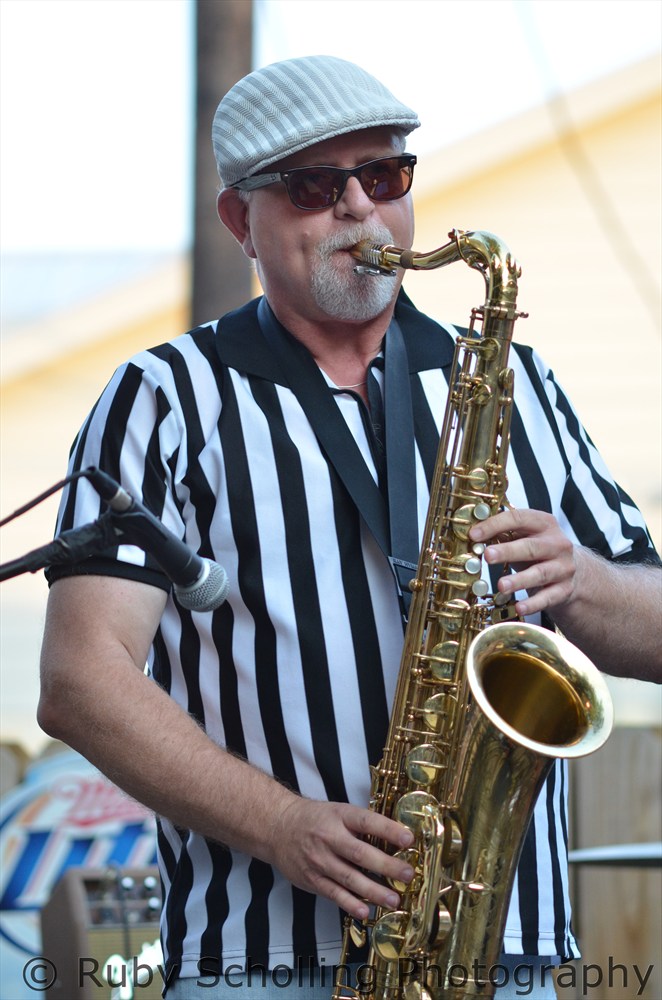 Paul Maine ( Sax )

Paul started his musical journey with the clarinet when he was in 5th grade.  He started on baritone saxophone when he was a freshman in high school. Paul switched to alto and tenor saxophones when he was a sophomore and received the Louis Armstrong Jazz award his senior year at Mississinewa High School in Gas City Indiana.
While in Las Vegas, Paul studied with Frank Sinatra's featured saxophonist Bob Pierson. Paul studied with Bob for five years.  Before leaving Las Vegas, Paul was able to purchase Bob's Selmer Paris Super 80 tenor saxophone.  Bob can be seen playing this horn in the Sinanta video entitled "Sintra in Japan live at the Budokan Hall Tokyo".
Upon arriving in Austin Texas in 1995, Paul and Rick Holman founded an R&B band named "Fire By Night". As time marched on "Fire By Nigh" disbanded and Paul performed with a Blues band for about a year. Up to this time, Paul primarily played R&B, commercial jazz and blues. In about 2004 Paul's musical interests centered around traditional jazz.
Paul is always striving to improve his musical proficiency.  Most recently, he has been studying sax, flute and music theory with Jacob Lampe, Paul Klemperer and Steve Neff.
Michele Solberg ( Vocals )
Michele Solberg has been performing and recording music for 20 years. She released her first solo tape "Skin" in the summer of 1992, when she was just 19 years old. Since then she has recorded 7 albums. Early on, her career was marked with recognition and awards, including numerous honors at the 1992-1995 Austin Music Awards (#1 Best Tape 93-94, #2 Female Vocalist 94-95, #4 Singer-Songwriter 94-95, #6 Album of the Year 94-95) She also performed at the 11th Annual Austin music awards in 1993 . In 1994, she moved to New York for the summer for a residency at Café Sine (Jeff Buckley got his start there) in the East Village, and played clubs like CB's Gallery and Sidewalk Café. Throughout the 90s, she toured regionally and frequently played at clubs like Antones, Cactus Café, and Ruta Maya in Austin, Texas.
In 1999, she moved to a small island in Denmark for a year and a half with music Producer/Engineer Mike Stewart. While in Denmark, she developed a new appreciation for the Austin music community. When Michele returned to Austin in 2001, she began to shift her musical focus. She hosted the open stage at the Cactus Café for two years and met her partner Oliver Steck there. She also began playing for people who traditionally don't have access to music.
In 2002 she founded Heart Gigs, a non-profit dedicated to promoting and providing free concerts for people who find it difficult to go to bars and other public areas that have music. Michele sponsored 25 different musicians to play at Project Transitions (housing for Aids patients), SafePlace, Hospice Austin, and University Baptist Soup Kitchen. She played music at Hospice Austin's Christopher House once a week for five years, and at University Baptist Soup Kitchen once a month for two years. She worked with Laura Freeman for four years to bring music to the families at SafePlace.
In 2005, she produced and released a CD (Love is a Dangerous Thing) for Gary Graves. In 2006 she released Christopher House Songs, a CD that raised over $54,000 in donations within a year. She was awarded the Greenlights Nonny Award in 2007 for her dedication.
In June of 2007, her daughter Eleanor was born. Always conscious of opportunities to make a difference, Michele donated an astonishing 815 ounces of breast milk to the Mother's Milk Bank of Austin.
In the summer of 2009, Michele began writing again after an eight-year hiatus. The archetypal experiences of the major arcana in tarot inspired her to write eleven songs that follow the fool's journey. She begins the album with "Harvest Time" that references the fool and the rebirth of Dionysus, who is featured as the fool in the Crowley tarot deck. The songs are either directly or loosely inspired by the Crowley tarot deck. In "Dust of the Moon," Michele begins the song with a direct visual reference to the Crowley card, "the sun's in the beetle's pincers, moving through the night." Other songs, such as "Dogs are on the Loose," are an interpretation of the unrealized potential of the card, or the card in an upside down position. In "Between the Threads," Michele makes a direct reference to the entire 78 card tarot deck, "there are 78 cries in a mockingbird's song." The songs resulted in a collaborative recording experience with Rob Halverson at Tree World Recording and the release of Michele's first full-length original recording in over ten years.
Albums include:
Skin (1992)
Shrill (1993)
Michele Solberg (1994, Chocolate Records)
Liquid (1996, Crystal Clear Records)
Floating (1998, self-released)
Beyond the Blue (2001, Chocolate Records)
Christopher House Songs (2006, Hospice Austin)
Harvest Time (2012)
Jimmy Fenno ( Drums )
Drummer and vocalist Jimmy Fenno was born on Bastille Day, 1958 in Fitchburg, Massachusetts. Son of drummer, composer and arranger Dick Fenno, Jimmy moved from coast to coast as his father moved up in his musical career. The famliy eventually settled in Southern California. At age eight he began drumming on the family pots and pans and frequently sang along with Frank Sinatra, Louis Prima and Louis Jordan. Encouragemed by his father and his music teachers, Jimmy played drums in bands and sang in vocal groups from elementary school through college.
Jimmy began experimenting with jazz, non-traditional and African inspired percussion while in college in Santa Ana, California. Jimmy's musical roots are widely planted in the Swing, R&B, Motown, Blues and Rock genres. His vocal interpretations of Frank Sinatra, Louis Prima, Louis Jordan and Louis Armstrong are always a hit at Jimmy's performances. Some of notable performers Jimmy has performed and toured with are The W.C. Clark Blues Revue, Mr. Fabulous & Casino Royale, Detroit Junior, Chicago Bob Nelson, The Shrimp City Slim Band, and many others. Jimmy leads his own variety band as well as playing with numerous musical outfits in Central Texas and beyond.
Terry Shimazu ( Keys )
Terry Shimazu was born in 1972 in Kyoto, Japan. Terry started piano lessons when he was three. He came to Austin in 1989, where he attended the Texas School for the Blind and Visually Impaired as an exchange student. He went back to Japan, finished college, and received a degree in English Literature. He then attended Berklee College of Music in Boston, where he received a Bachelor of Music in 2000. As a professional pianist and organist, he has played with a variety of artists, such as Walter Beasley, Manhattan Transfer, Kevin Mahogany, Larry Watson and Take Six. He returned to Austin in 2004 to pursue his career.
Brian Vose ( Bass )
Brian was born in central Illinois and began playing electric bass at the age of 14.  He quickly formed a band with some high school buddies and they hit the local circuit.  During his first years of playing, Brian was heavily influenced by Les Claypool, Bootsy Collins and Cliff Burton.  Upon entering junior college, he began studying the upright bass, music theory and joined the school jazz band.   His interests began to include players like Paul Chambers and Ron Carter.  During his time at Eastern Illinois University, Brian played in the orchestra, big band and continued his studies of the bass.  He earned a Bachelors of Music Education and taught grade school orchestra in Urbana and Edwardsville Illinois.
Brian made the move to Austin in January of 2004. Since then, he has played with several Austin musicians all over town.  He currently teaches at the Austin School of Music and is available for lesson on the violin, cello, guitar and bass.
Rob Jewett ( Bass )
Rob Jewett has been a working Austin musician for the past 20 years.  Rob has toured with the legendary  drummer, Buddy Miles (Jimi Hendrix, Electric Flag, Santana).  Performed live on national television on the Grand Ole Opry with Dale Watson, and toured the US and Europe with Alligators Recording Artist and Texas bluesman Long John Hunter.  Early in his Austin career, he has been the bassist for The Asylum Street Spankers and Wayne (the train) Hancock.  He has also performed with Brian Setzer, (stray cats), bluesman Buddy Guy and conjunto musician Flaco Jimenez.
No matter what the genre, Rob always brings energy, soul and conviction to whatever he plays.  He is most passionate about Jazz.  The Paul Maine Jazz Band is the creative outlet for that passion.
Rob is available for lessons.  He teaches all levels of students on guitar, upright bass, electric bass and how to improvise ( all instruments) out of his home in East Austin.